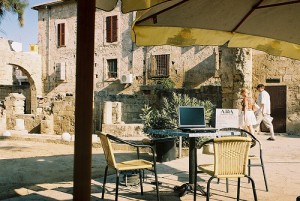 Cyprus has seen a marked increase in property sales to foreigners, reported Overseas Property Professional, particularly to Russian and Chinese buyers. The most recent figures put the volume of land sales up nearly 20% over 2010–43% in the Larnaca area alone. This despite the looming storm clouds of the eurozone's ongoing debt crisis and Cyprus' own financial woes.
OPP attributed the surge to government incentives providing foreigners with legal protections and residence visas in return for property investments. The site quoted the head of Imperio Properties, Yiannis Misirlis, who said:
There has been a noticeable percentage increase in business from Russian and China […] our system that makes overseas property buyers eligible for a residential visa. The Russians have been aware of the rule for several years now and like to take advantage of it.
He added:
We are seeing a lot of activity in the €300,000 and above sector with the Russians, most of whom want to get their money out of Russia and into what they see as a safe European market.
Misirlis said Russian buyers often prefer to pay in cash, as interest rates are in the double digits, and (in his own words) "they don't trust banks." Chinese investors, on the other hand, usually make a substantial down-payment and pay the rest through a mortgage.
It remains to be seen how Cyprus' budding debt crisis will impact foreign appetite for local property. In July an explosion involving seized Iranian munitions triggered a local financial crisis (this after turning out the lights across half the country). The blast did nearly EUR 2 billion in an economy with a GDP of about EUR 18 billion and a climbing deficit-to-GDP ratio.
As the FT reported on August 1st:
The crisis has posed a particular threat to Cypriot banks, which have taken in billions of euros in deposits from overseas investors, thanks to a low tax rate and a reputation for discretion and caution.
In the end that Russian instinct to pay cash may be well-justified.
MPU 300×250

Mailchimp Form

Topics

Tags